National Utilities Company: A reputation built on
service, quality, and top-of-the-line

airplane parts
Persevering in our mission
From its humble beginnings in 1950 Monrovia, California, NUCO's mission has been to provide quality joining components, delivered on time, every time. Our responsiveness to customer needs is ultimately what brought NUCO back from a decade of poor management in the 1980s. VIJ Corporation, a family company owned by Jane and Robert Greer, acquired National Utilities in 1993 and revived the company. The first step was moving the entire operation and many of its experienced and dedicated staff to Fort Worth, Texas.
New home, newfound success
The trajectory of National Utilities Company changed when Cowtown became its home. Under Greer's leadership and leveraging his years of experience in the industry, NUCO was once again a trusted partner for essential industrial couplings and airplane parts. Key customers like Boeing resumed business with NUCO in 1994, and by 1996, sales had doubled.
Less than 10 years later, in 2005, National Utilities acquired AS9100 certification for the first time. In an effort to grow its reputation as a preferred supplier, the company upgraded computer systems and ERP software to improve quote accuracy and order tracking capabilities.
Integrity, purpose, and much more than airplane parts
Today, National Utilities Company is known for much more than quality clamps, flanges, and assemblies. The company culture is one of integrity, valuing world-class employees, and exceeding manufacturer expectations as a preferred supplier. Our team continues to offer excellent customer service, timely delivery, and a vision of continuous improvement to serve our clients' needs.

AS9100 is a company level certification based on a standard published by the Society of Automotive Engineers (SAE) titled "Quality Systems-Aerospace-Model for Quality Assurance in Design, Development, Production, Installation and Servicing".  This certification is for organizations doing business in the aerospace industry. The standard is based on organizational processes and emphasizes the need to satisfy internal, governmental and regulatory requirements. View our certificate.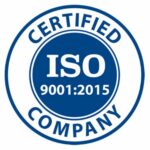 ISO 9001 is an internationally recognized standard for Quality Management Systems that is published by ISO (the International Organization for Standardization). The requirements are recognized around the world as an acceptable basis for implementing a QMS, and it was last updated in 2015, so it is referred to as ISO 9001:2015. View our certificate.
Explore National Utilities Company Services and Products
Get Connected
Customized Joining Solutions
Contact National Utilities Company's experienced sales team to request a quote today for your application-specific coupling or joint design. Simply provide your project specifications, and our team will reach out to discuss every detail and provide a joining solution that is engineered to suit your needs. Offering much more than just airplane parts, NUCO now serves clients in the marine manufacturing industry, aerospace parts manufacturing companies, the oil and gas industry, and much more.
Find out how our expert engineers can develop a solution that is an exact fit for your needs.